Fun Activities 2015
HISTORY-MYSTERY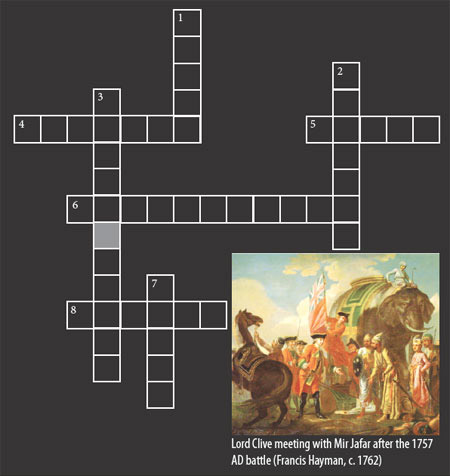 Across
4.Vasco da Gama opened the doors of colonialism in India by landing at this port in 1498 AD.
5.Gandhi ended the long march of Salt Satyagraha at this village in Gujarat.
6.The point of origin of the uprising of 1857.
8.A non-violent peasant movement against planters that arose in Bengal in 1859.
DOWN
1.The first English trading post was set up here.
2.East India Company's Robert Clive defeated Siraj-ud-daula and planted Mir Jafar as a puppet ruler in Bengal after this war.
3.The Munda tribe leader, who took charge of the tribal belt of modern-day Bihar and Jharkhand, in the late 19th century.
7.A Santhal rebellion leader of present-day Jharkhand who fought against the British and the corrupt zamindari system.