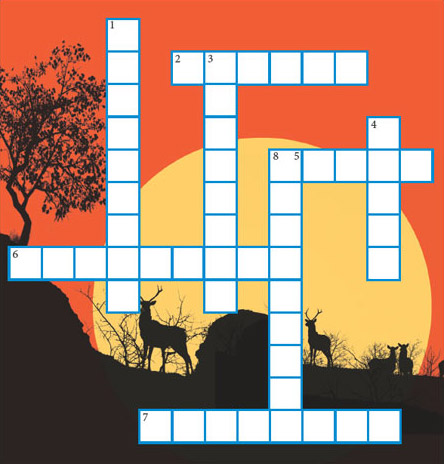 Across
2.

The Karnataka sanctuary gets its name from a river which passes through it.

5.

A game reserve until 1965, the Adilabad-based tiger reserve has a rich cover of dry deciduous and teak forests.

6.

Over hundreds of native and 60 odd species of birds flock at this Kerala bird sanctuary in Kozhikode district.

7.

Located in Nizamabad district of Andhra Pradesh, this animal abode was constructed in 1931 by the Nizam.
DOWN
1.

The national park is named after one of the plants at the mangrove called Sundari.

3.

Located in Kalahandi district of Odisha, the spotted deer, sambar and black panther are the park's main attraction.

4.

Established in 1955, this park garnered attention for its conservation of the swamp deer or barasingha.

8.

It is the sole natural habitat of the one-horned rhinos in India.